250 New Continuouse Line Quilt

250 New Continuouse Line Quilt


9 Patch Reunion by Atkinson Designs

Enjoy quilts and recipes from nine favorite quilt shops as we travel through Minnesota and Wisconsin


A Russian Journey in Quilts

A Russian Journey in Quilts


A Touch Of Whimsey

A Touch Of Whimsey


Anna's Quilt

Annas Quilt


Baby Times

Baby Times


Bandana-rama by Judith Cressy

Bandana-rama by Judith Cressy Kids Make 21 Fast & Fun Craft Projects Headbands Skirts Pillows and More


Because I Love You Sew

Because I Love You Sew


Best Of 2013 Kansas City Star: Best Of 2013

Best Of 2013 Kansas City Star: Best Of 2013


Beyond Neutral

Beyond Neutral Quilts Inspired by Nature's Elements by John Q. Adams


Blended Quilt Backgrounds by Jean Biddick

Quilt block patterns are transformed by Jean Biddick's new background piecing method. Watch blocks float blend and reshape themselves as the newly formed backgrounds become an integral part of the quilt s design. These appealing quilts glow on the page


Burgoyne Surrounded

Burgoyne Surrounded


Butterfly Fields

Butterfly Fields


Colorful Stash Busters

Colorful Stash Busters


Contemporary Classics by Liberty Homestead
Czecherboard Quilts

Czecherboard Quilts


Desert Vision Rhapsody Quilts by Ricky Tims

This is the stunning new companion to Ricky Tim's "Rhapsody Quilts" featuring a brand new full-size Rhapsody pattern plus nine bonus designs. Expand the horizons of your favorite Rhapsody Quilts with his stunning new companion to the bestselling Ricky T


Design Create & Quilt

Design Create & Quilt


Diamond Chain Quilts

Diamond Chain Quilts


Fab Five

Fab Five


Farm Girl Quilts

Farm Girl Quilts



Out of Stock
Farmhouse Quilts The Kitchen Hearth by Liberty Homestead

From Introduction: "'The Kitchen Hearth' is the sixth book in the Farmhouse Quilts series. If you are familiar with the farmhouse books then you're familliar with the basic themes that have been the basis for these books....simplicity tradition utility


Favorite Traditional Quilts Made Easy by Jo Parrott

Traditional quilt designs are made easy with Jo s no template solution. Using strips rectangles squares and the folded-corner technique she helps you turn advanced block designs into simple cutting and sewing. Now you can create accurate blocks and go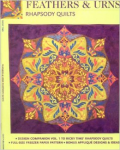 Feathers and Urns Rhapsody Quilts by Ricky Tims

New from Ricky Tims! Expand the horizons of Rhapsody Quilts * Follow-up to "Ricky Tims Rhapsody Quilts "* Add excitement with 21 applique designs for feathers urns scrolls flowers and leaves Everybody loves Rhapsody Quilts! And now everybody can add a


Flip Your Way To Fabulous Quilt

Flip Your Way To Fabulous Quilt


Folk Art Blooms

Folk Art Blooms


Fresh Picked Posies

Fresh Picked Posies


Fun-Size Quilts - Play with Fat Quarters by Karen M. Burns

Fun-Size Quilts - Play with Fat Quarters by Karen M. Burns


Girls Get Stitching

Girls Get Stitching Girls Get Stitching


Golden's Journal

Golden's Journal: 20 Sampler Blocks Honoring Prairie Farm Life


Graphic Mixx

Graphic Mixx


Hexagons Diamonds Triangles and More by Kelly Ashton

Hexagons Diamonds Triangles and More by Kelly Ashton


House Party Coordinated Quilts and Pillows

House Party Coordinated Quilts and Pillows


Instruments of Praise

Instruments of Praise


It's Elementary by Kim Gaddy

It's Elementary by Kim Gaddy Schoolhouse Inspired Quilts for Home and School


Knockout Neutrals: 12 Showstopping Neutral quilts

Knockout Neutrals Knockout Neutrals: 12 Showstopping Neutral quilts


Little Fixes
Make + Love Quilts

Make + Love Quilts


Mastering The Art of Longarm Quilting

Mastering The Art Longarm Qltng


Modern Prairie Sewing by Abigail A. Long

Modern Prairie Sewing by Abigail A. Long



Out of Stock
More Twist and Turn Bargello Quilts

More Twist and Turn Bargello Quilts


My Stars

My Stars


My Stars VII

My Stars VII


On Point Patchwork

On Point Patchwork On Point Patchwork


Orange Peel

Orange Peel


Pick Four

Pick Four


Pieced Hexies

Pieced Hexies


Pieced Hexies Deux by Mickey Depre

Pieced Hexies round two!


Professional Machine Quilting by Carol A. Thelen

Ready to turn your hobby into a business? Want to improve your existing quilting business? This resource is packed with proven ideas! Expanding on a subject touched on in her first book Long-Arm Machine Quilting Carol A. Thelen shares her own successful


Quilts from Simple Shapes - Triangles by Mary Coyne Penders
Scrappy Patches Pinwheels and More! by Kaye England

Scrappy Patches Pinwheels & More has seven new patterns featuring classic blocks created in a scrappy manner. Includes easy step-by-step instructions.


Sew Into Sports

Sew Into Sports


Simple Choices

Simple Choices So Many Choices


Simple Circles & Quick Curves

Simple Circles & Quick Curves


Stop Go Quilt Sew

Stop Go Quilt Sew


Sweet Dreams by Pamela Lindquist

It?s the "bed-in-a-bag" concept with a two-for-one twist! Create a designer look for a bedroom with three collections of gorgeous bedroom accents. Reversible quilts make it easy to instantly change a room?s look. ? Showcase classic rose basket and sta


The Blessed Home Quilt

The Blessed Home Quilt


The Essential A Line

The Essential A Line The Essential A Line


The Happy Bicycle by Kathy McGee

The Happy Bicycle by Kathy McGee 15 Stylish Bike Accessories with Hemma Design


The Wonderful Colorful Wonder Wheel of Color

The Wonderful Colorful Wonder Wheel of Color